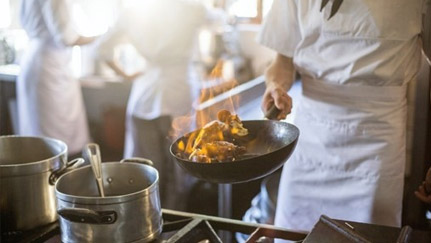 National Fire Prevention Week: Cooking safety starts with YOU
National Fire Prevention Week is observed the week of October 9th each year, to commemorate to Great Chicago Fire of 1871. The theme for this year's Fire Prevention Week is "Cooking Safety Starts with YOU. Pay attention to fire prevention."
According to The National Fire Prevention Association (NFPA), cooking continues to be the main contributor to residential fires, and unattended cooking is the leading cause of cooking fires and deaths.
To assist in fire prevention, Nationwide Loss Control Services has a team of safety professionals who strive to ensure that our customers' workers and tenants stay safe. We encourage our customers to participate during National Fire Prevention Week to focus on kitchen/cooking safety and reinforce the importance of fire prevention.
It isn't just homes that are at risk, though. Many commercial buildings have cooking areas or use cooking appliances that could present a fire hazard:
Restaurants
Schools
Convenience stores
Cafeterias
Food courts
Catering businesses
Nursing homes and Senior Living facilities
Churches
We have a resource to get you started. The tips in this resource, as well as those listed below provide a high level of oversight to assist with your safety structure. Your organization is responsible for the development of your own written program guidelines and policies for the oversight of your operation.
Here are just a few things you can do to try to keep cooking areas safe:
Keep combustibles away from your stovetop.
Never leave the kitchen when frying, grilling or broiling food.
If you are baking or roasting food, check it regularly and use a timer.
Wear short, close-fitting or tightly rolled sleeves when cooking; loose sleeves can catch fire or snag on a pot handle.
Keep the kitchen's stovetop and oven clean; food or grease residues can easily catch fire.
Keep a Class K fire extinguisher nearby; do not use water on a grease fire; if a fire burns out of control, exit the building and call 911.
We hope you'll consider these and other fire prevention topics to protect your business.
Need more information? Loss Control Services provides 24/7 access to resources at www.MyLossControlServices.com. You may also reach us by email at LCS@nationwide.com or by phone at 1-866-808-2101.
Subscribe to our newsletter for timely content in your inbox