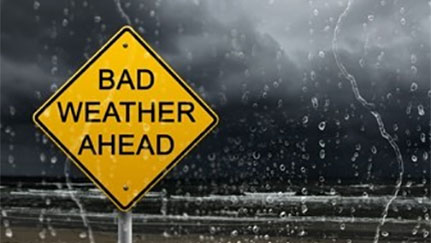 Severe weather can be a be costly for a construction project, both in terms of time and money. This article offers guidelines that can help ensure your jobsite is protected.
Severe weather is one of the leading causes of property damage and schedule delays for construction projects and continues to cost the construction industry billions of dollars annually.1 Severe weather hazards vary based on geography and time of year making them a challenge for those in the construction field to forecast and prepare for. However, a simple and effective means of reducing your risk is to create a severe weather plan. Use the following guidelines to help ensure your jobsite is protected from severe weather events. 
Water has replaced fire as the leading loss driver for construction job sites.2 One of the leading risk factors in water damage claims is heavy rain. Damage can occur when rainwater intrudes through openings into the building's interior envelope or when improper drainage allows water to pool and/or flood the jobsite. Below are some items to consider when trying to mitigate against water intrusion at the jobsite.
All sites should have a site-specific plan that incorporates employee training, emergency response procedures, and clean-up kits.
Identify potential for flood and evaluate site drainage
Reduce or eliminate water intrusion to the interior envelope of the building before installing finished products such as drywall, electrical panels, flooring, etc. The reduction or elimination of water intrusion can be accomplished by installing the roof, windows, and door openings.
Temporary roofs to protect the areas highly susceptible to water intrusion for buildings under construction should be considered when there is a delay with the installation of a permanent roof system.
If finished products are installed prior to the envelope being watertight, use temporary coverings to protect products easily damaged by water instruction.
Contractors that do not "brace" their jobsites for windy conditions can literally watch their profits blow away. High winds and straight-line winds can cause havoc on partially build structure such as walls, roof coverings, and forms which are prone to catch wind. Materials on the ground are also susceptible to flying away. Below are items to consider when strong winds are heading toward your jobsite.
Secure items and materials for high winds conditions. Tools and materials being stored at jobsites should be stored in manner to keep them from becoming projectiles during a windstorm. Smaller tools should be placed in gang boxes or on trucks. Larger tools and materials also should be secured through other means such as tarping, using straps, etc.
Install temporary windbreak and use tarps to secure sand, soil, and other fine materials.
Brace items that could be removed or damaged by high winds. Items include partially installed decking, roofs, walls, etc. Make sure engineering designs and/or manufacturers guidelines are being following when bracing.
If a crane is on the site, follow the manufacturers guidelines for protection of the crane against high winds.
Winter weather can devastate a jobsite. Freezing rain, show, and icy conditions can bring your jobsite to a halt. Snow and ice build up can collapse partially built and completed structures. Freezing temperature can cause pipes to burst, drains to be become blocked, and equipment and materials to freeze up. When the weather starts to warm back up you now have an exposure to water intrusion from melting snow and ice. Consider the following: items when dealing with winter weather at your jobsite.
Brace any structures that could collapse under the additional weight of snow and/or ice.
Have portable power and heaters available.
Either insulate or store in a warm area any items that could freeze.
Make sure drainage systems will remain clear before leaving the jobsite.
Have a plan and needed equipment to remove snow and ice from the jobsite.
Remove sensitive materials from the jobsite.
Hurricanes and Tropical Storms can be devastating to areas they impact. The only benefit to a hurricane or tropical storm, if there is one, is the time the areas predicted to be impacted have to prepare. Jobsites located along hurricane prone areas should have the following items in place to help reduce the impact the hurricane will have on their jobsite.
Develop a Hurricane preparedness checklist. This checklist should include items needing protection and items which may need to be on standby once the storm passes. This checklist will be site specific and may include items such as jobsite files, heavy equipment, generators, cranes, jobsite trailers and other items listed in the Water Damage from Heavy Rains and Wind Hazards sections.
Contingency storage plans. Be ready to move important equipment, materials, and documents to an area outside the hurricane impact zone.
Be ready to secure materials. Hurricane season runs from June 1 to November 30 each year. During this high-risk time, have securement materials such as tie-downs, anchors, and bracing ready on the jobsite.
During a hurricane watch review the hurricane checklist and plan. This review process should include all of employees identified to be part of the hurricane preparedness plan, their roles, and responsibilities.
During a hurricane warning, prepare for winds and landfall. In the first 24 hours make sure all checklist items to mitigate hurricane force winds is implemented. Next, suspend all work activities and complete the hurricane plan in preparation of landfall.
After the storm, assess damages, make sure the site is safe before entering, notify the insurance company, take steps to prevent theft and begin cleaning up the site.
Subscribe to our newsletter for timely content in your inbox