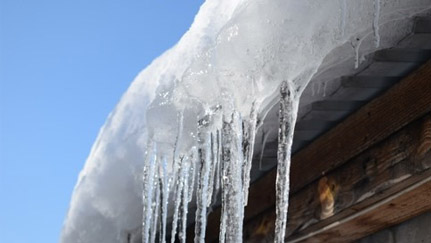 This article will guide you through the steps you can take to minimize risk to your building caused by winter weather.
Business owners today take precautionary measures to protect their properties against severe events such as fires, tornadoes, and hurricanes. However, many do not realize the severe exposures associated with winter weather that can cause significant damage to their property. Water lines and roofs, in particular, are susceptible to damage from freezing temperatures.
Water lines to a business (both the water line and sprinkler system) can develop leaks or break. A frozen or broken pipe is an emergency event which can be costly to a business owner. Water leaks or broken pipes in multi-story buildings can not only cause significant damage on the level where the water event occurs, but also puts the floors below at risk.
Roofs can also be damaged in freezing temperatures. If roofs have water issues prior to the winter season, freezing temperatures can make those problems worse. Water in roof cracks can expand when it freezes and enlarge the cracks. Clogged drains, gutters and downspouts can also be damaged when trapped water freezes.
There are a few measures that business owners can take to help reduce the likelihood of experiencing frozen pipes or water intrusion during the winter months. They include:
Keep the temperature inside a building above 40 degrees Fahrenheit
Maintain the roof in good condition. Develop a plan to have ice or snow removed.
Clear gutters and downspouts to allow water to freely move from the roof
Seal windows and doors to keep cold air from penetrating the building.
Have the building's heating system serviced prior to the winter months.
Have a response plan in place for addressing such an emergency. This would include shutting off the water to the pipe that is leaking and having an approved list of local contractors to call for quick repairs.
Other related Loss Control Services Resources:
Subscribe to our newsletter for timely content in your inbox