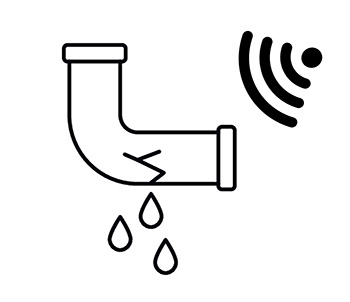 Water systems in buildings can present a costly property damage risk, and a building without a monitoring system could be subject to days of water discharge during off times. A proactive approach is necessary to ensure rapid detection, notification and response to water intrusion.
Data
Water-leak detection devices can help reduce water leak claims by as much as 96% and claim severity by as much as 72%, according to a recent LexisNexis Risk Solutions study1. The study primarily focused on residential water damage, though the principles are the same: quick notification in conjunction with active shutoff technologies can significantly reduce exposure.
Active/Passive Monitoring
Water-monitoring systems include active and passive devices. Passive devices sense a predetermined level of water, humidity or temperature and provide alarms or alerts on a local or remote basis. Passive systems can employ a single spot or multiple spot sensors to detect problems.
Active monitoring systems combine alert notifications with electronic or mechanical shutoff actions of the water itself. These systems often require a permanent power source near the device, wi-fi connection, and they may also require a plumber to install. Smart leak-detection systems can be an active system or passive systems. These devices employ machine learning of water usage patterns and will provide notification in the event of an anomaly. Some smart systems include active capabilities to shut off water if there is a deviation.
Customization and Capabilities
Each jobsite is unique so planning your system is important. Based on the exposed areas and the notification system preferred, access to wi-fi or cellular networks may be necessary. Signal boosters may also be required depending on the area being protected. Notification methods range from audible alarms to cellular text notifications. Systems can use one or more types of sensors:
Flood/Leakage

Spot detectors are placed in a pre-determined location on flat surfaces. When water contacts probes or sensors, the detector sends a notification or sounds an alarm, and may initiate active shutoff devices. These sensors can be used near high-risk appliances, in basements, elevator shafts, electrical and mechanical rooms, storage rooms or anywhere where water damage poses a significant risk.

Humidity

Excess humidity can be a signal that water damage has occurred. These sensors will notify you once the humidity exceeds a specified limit. These sensors are best used in connection with flood/leak alarms.

Temperature
Temperature sensors can provide notification and or alarms when temperatures fall below a pre-set level. For example, the National Fire Protection Association requires wet sprinkler piping to be maintained at a minimum 40° F. Temperature sensors could be placed in attics or other areas of the building that may be subject to freezing temperatures.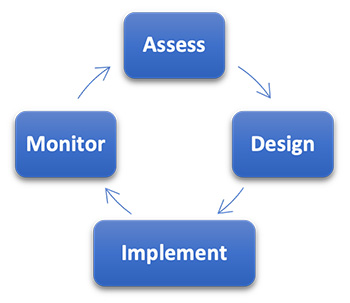 Setting up a PLAN
Assemble key stakeholders and ASSESS water damage exposures.
Design a monitoring solution that addresses your needs.
Implement and test your monitoring solution to ensure performance meets your expectations
Monitor your project for water damage hazards. Ensure multiple contacts are configured to receive notifications. Setup a plan to respond to a water damage emergency. See Nationwide's Water Damage Response Planning resource.
1 https://risk.lexisnexis.com/about-us/press-room/press-release/20200505-flo-by-moen
Subscribe to our newsletter for timely content in your inbox