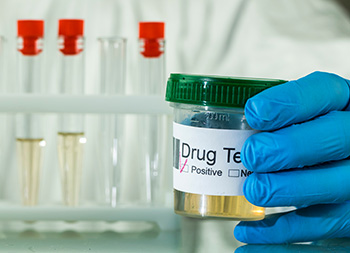 CDL Drivers
Drivers of vehicles requiring a Commercial Driver's License (CDL) are subject to USDOT-mandated pre-employment, random, post-accident and reasonable suspicion drug and alcohol testing requirements. The USDOT has also clarified1 that marijuana is a Schedule 1 drug that must be tested for, regardless of the legal status of marijuana in the driver's home state. There are no exemptions for medically prescribed marijuana.
Non-CDL Drivers
There are no regulations or laws requiring testing of non-CDL drivers. As a best practice, for employee safety and to protect an organization from significant liability, all employees driving on behalf of an organization should be subject to a drug and alcohol testing program. This includes those driving organization-owned or personally owned vehicles. The program should be similar to DOT testing, with pre-employment, random, post-accident and reasonable suspicion. The USDOT requires that drivers pulled for random tests only be pulled from a pool of CDL drivers. So non-CDL drivers should be placed in a separate pool for random selection.
Why your organization should test
Driving is dangerous and being under the influence of drugs or alcohol can affect a driver's judgement and ability to recognize hazards and respond appropriately. Substance abuse is a significant problem in the United States and research points to it being a significant factor in auto accidents and fatalities.
Current estimates from the Substance Abuse and Mental Health Administration indicate that 15.4% of all adult Americans struggle with a substance use disorder each year2.
In 2021, 4.6% of workplace drug tests were positive, up 30% since a low in 20123.
Each year traffic accidents are either the second or third leading cause of accidental deaths in the US, with around 40,000 fatalities4.
From 2019 to 2022 the traffic fatality rate grew 17%, the largest increase in over 30 years7! The National Highway Traffic Safety Administration (NHTSA) attributes the jump to an increase in speeding, distracted driving, drug and alcohol impairment and a decline in seat-belt use.
The majority of nuclear lawsuit verdicts, verdicts over $10 million, are auto related8. Organizations often have difficulty defending themselves when their driver tests positive for drugs or alcohol after an accident.
Consequences of not testing
The 4.6% positive drug testing rate may not seem high on the surface. But these are job applicants or current employees who know they are going to be tested. Workers with substance abuse problems are more likely to apply at organizations who do not test for drugs and alcohol. Is that your organization?
In January of 2020 the USDOT's Drug and Alcohol Clearinghouse regulations became effective. The Clearinghouse regulations require employers to input positive CDL test results into a database and for prospective employers to check the database prior to hiring an applicant. Prior to then, drivers who tested positive just moved to another employer. The new employer had no knowledge of their prior positive tests.
As of January, 20239 there were 120,345 CDL holders in the Clearinghouse that were in prohibited status, meaning they tested positive but did not complete the process to become qualified to drive again. In fact, 91,523 had not even started the process to become qualified. So where are these "prohibited" drivers working? Some have taken non-driving positions, but others have moved into driving positions not requiring a CDL, with organizations that do not test drivers. Is that your organization?
Marijuana testing in states where marijuana is legal
As indicated earlier, CDL holders must be tested for Marijuana. However, the legalization of Marijuana in many states brings into question whether non-CDL drivers in these states should be tested for Marijuana. Because Marijuana stays in a user's system well beyond when a user is impaired, some jurisdictions have prohibitions/limitations against testing for marijuana, New York and New Jersey for example. Organizations should have legal counsel review the laws and regulations in the jurisdictions they operate to ensure they are not in violation. Removing marijuana from the test, or not acting on a positive marijuana test may be appropriate, and if so, incorporated into your policy.
Organizations should also warn drivers regarding the consequences of using Cannabidiol (CBD), a hemp derivate. Some CBD products have been found to have enough tetrahydrocannabinol (THC) in them to trigger a positive DOT drug test.
Handling positive tests
Organizations should follow their own drug and alcohol policies for handling positive tests, including returning a driver back to driving.  For a CDL driver, the DOT has a formal process a driver must go through to get their driving privileges back. It includes counseling and a series of negative tests. Many organizations follow these DOT requirements for non-cdl drivers as well. Your policies should comply with laws and regulations pertinent to the jurisdiction you operate and be reviewed by legal counsel.
Driver policies, awareness, and training
While testing is important there are other components of a drug and alcohol program including:
Supervisor training on recognizing when a driver may be under the influence and proper steps to address the situation.
Driver training and awareness of the impact of alcohol and drugs (legal and illegal) on driving.
Requirements that drivers discuss their driving role with health care providers when being administered prescription or over-the-counter drugs; and adhere to that guidance.
Clear policies regarding not driving when under the influence of any drugs or alcohol. USDOT regulations prohibit drivers from operating a DOT regulated vehicle within four hours of consuming any alcohol. Guidance should be provided for non-regulated vehicles as well.
Providing resources to help employees coping with substance abuse problems.
Resources
Drug and alcohol requirements for CDL Drivers
Substance Abuse and Mental Health Administration (SAMHSA) employer resources
AlertMeter impairment detection. An alternative to drug and alcohol testing for non-CDL drivers  
[1] Recently, the Department of Justice (DOJ) issued guidelines for Federal prosecutors in states that have enacted laws authorizing the use of "medical marijuana" (transportation.gov)
[2] https://www.samhsa.gov/data/
[3] Workforce Drug Test Positivity Climbs to Highest Level in Two Decades, Finds Quest Diagnostics Drug Testing Index Analysis
[4] Center for Disease Control, Leading Causes of Death Visualization Tool
[5] National Center for Statistics and Analysis. (2022, April). Alcohol-impaired driving: 2020 data (Traffic Safety Facts. Report No. DOT HS 813 294). National Highway Traffic Safety Administration.
[6] National Center for Statistics and Analysis. (2010, November). Drug Involvement of Fatally Injured Drivers (Traffic Safety Facts. Report No. DOT HS 811 415). National Highway Traffic Safety Administration
[7] Early Estimate of Motor Vehicle Traffic Fatalities for the First 9 Months (January–September) of 2022, Traffic Safety Facts, DOT HS 813 406, December 2022
[8] Understanding the Impact of Nuclear Verdicts on the Trucking Industry, American Transportation Research Institute, June 2020
[9] Clearinghouse Monthly Report - December 2022 (dot.gov)
Subscribe to our newsletter for timely content in your inbox