2020 changes to the HOS regulations: short haul exemption, adverse weather, 30 minute break, sleeper berth.
On June 1, 2020 the Federal Motor Carrier Safety Administration (FMCSA) published a final rule on changes to the Hours of Service regulations. These regulations will become effective on September 29, 2020. Changes to hours of service have been requested for many years by the trucking industry and will provide drivers and employers with more flexibility in complying with the HOS regulations. Changes were made to the short haul exception for driver logging, extended driving times for adverse weather, easing 30-minute break requirements and permitting split sleeper berth times to complete the 10-hour reset.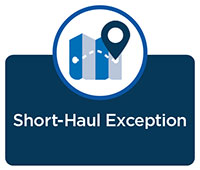 CDL Short-Haul Exception
This change affects only the CDL Short-Haul exception, better known as the 100 air-mile rule and aligns it with the non-CDL exception. Under the current exception, drivers operating CDL equipment may forgo regular logging requirements under two conditions.
They start and return to the same location each day and did not exceed 100 air mile (115 statute miles) radius from that starting point and
Were released from work within 12 hours after having come on duty.
The new rule extends the mileage and the time in which the exception can be used by CDL drivers. To qualify for the Short-Haul exception, a driver needs to meet the following conditions:
Driver starts and returns to the same location each day and did not exceed 150 air mile radius (172.6 statute miles) from that starting point and
Are released from work within 14 hours after having come on duty
The driver still cannot drive the vehicle more than 11 hours within the 14 hours of on-duty time.
This means those that operate within these ranges are not required to log and by extension, are not required to utilize an ELD. If driving outside the 150 air-mile range the driver must complete a paper or electronic driver's log for that day. If drivers exceed 150 air miles more than eight times in any 30-day period, an ELD is required.
Adverse Driving Conditions
Under the current rule the definition of adverse driving conditions as found in 49 CFR 395.2 means snow, sleet, fog, other adverse weather conditions, a highway covered with snow or ice, or unusual road and traffic conditions, none of which were apparent on the basis of information known to the person dispatching the run at the time it was begun. That was interpreted to be a dispatcher and not the driver.
The change allows the driver and their knowledge of the conditions to be applied whether or not the conditions are different than when dispatched. To claim adverse driving time:
The driver and/or dispatcher were unaware of the adverse condition at the time the run was dispatched, and they are now facing adverse driving conditions.
The driver may drive up to two additional hours past the 14-hour driving window for property carrying companies
This change should enhance a driver's ability to make better judgements of when and where they drive and can allow them to park and wait out weather, wait for improved road conditions, or decrease speed without exhausting hours.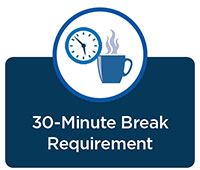 30 Minute Rest Break
Under the current rule the driver must take a 30-minute rest break after eight hours of on-duty time, whether that time was on-duty or driving time.

The new 30-minute rest break now states:
The 30-minute break must occur before driving again after a collective driving time of eight hours.
The break may be satisfied by any non-driving period of 30 minutes, including on-duty time, off-duty time or sleeper berth time.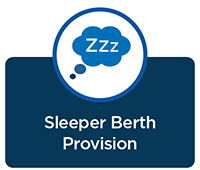 Split Sleeper Berth
Current hours of service regulations allow a driver to work 14 hours before taking a mandatory 10-hour break. Once this 14-hour duty clock has begun, the driver may not pause the clock. If a driver becomes fatigued and needs a nap or break, there is a disincentive to do so because the driver loses valuable duty hours from the 14-hour period.
The new regulation will allow 10 required hours of off-duty sleeper berth time to be split into two sections – an 8-hour/2-hour split or a 7- hour/3-hour split. Neither of the two splits will count against the 14-hour clock.
One period has to be at least two hours long and taken either in the berth or off duty.
The other must involve at least seven hours in the sleeper berth.
Both periods added together must equal at least 10 hours
While these changes allow drivers and their employers more flexibility in scheduling their driving time attention must still be paid to driver fatigue. Drivers are accountable to ensure they utilize their breaks properly, so they are not driving while fatigued and employers must ensure that drivers are in compliance.
The example below assumes the driver started Day 1 having just completed 10 consecutive hours off duty.

Photo/graphic courtesy to FMCSA/USDOT


For more information:
FMCSA Hours of Service web page
Hours of Service Final Rule Fact Sheet (great for drivers)
Subscribe to our newsletter for timely content in your inbox