Take advantage of our core consultative services
Property. Liability. Commercial auto. Workers' compensation.
Nationwide responds with a full menu of services for each of these key coverage areas.
Take steps to help protect valuable property and assets
Site-specific hazards analysis
New building acquisition consultation
Proper valuation of building replacement
Infrared thermography surveys
Business continuity planning
Fire sprinkler system review
Reduce the likelihood of a liability claim
Reasonable care training
Completed operations review
Risk transfer program evaluation
Cyber risk management resources
Product quality process review
Incident investigation
Safely manage a fleet of company vehicles and drivers
Fleet safety management program review
Driver performance monitoring tips
Bulletins on establishing key safety practices
Workshops and seminars for managers
Driver training curriculum
Prevent work-related injuries and maintain a safe workplace
Job site safety analysis
Ergonomic assessment
Safety training resources
Industrial hygiene consultation
Successful return-to-work program guidance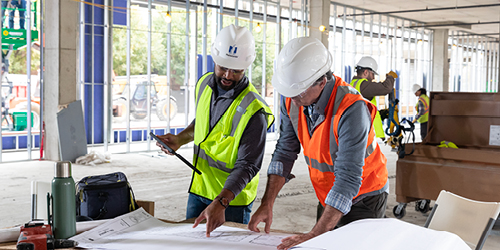 Rely on us for risk management and safety expertise
Nationwide business insurance customers have access to our team of experienced consultants, located throughout the country.
Subscribe to our newsletter for timely content in your inbox